Overview
A moderate trail hike with no major inclines this 6-mile out out and back trail to Doris Lake is best mid to late summer when the lake is full and bugs subdued. The trail is well established but does have a few short heavily rooted sections. 6 Lakes trail is dotted with high meadow brooks, several small lakes and two larger lakes, Blow Lake and Doris Lake.
The Good
Relatively flat, easily accessible and lower traffic, follow the road sign to the trailhead on the right just past Elk Lake on the Cascade Central highway driving up from Bend. Beautiful lakes, high meadows brooks and lush forest. An excellent spot to hammock and have lunch with friends.
The Bad
It's about an hour drive from Bend for what I would consider a 3.5 (maybe 4.0) star hike as a local, but if visiting or you've never gone it's well worth it. While the lakes are beautiful the first two miles of marshy landscape are buggy and can make you think twice at times. If you go in early Summer don't forget the bug spray and you won't want to stop for long. On the upside Doris Lake is far less buggy than the first few miles of the trail.
The Trail

The trail can be roughly split into three sections leading to Blow Lake, Doris Lake and the final less scenic section intersecting with the PCT (Pacific Crest Trail).
Section 1 of 3 - Blow Lake
The first section of a bit under a mile and half gets you to Blow Lake, while beautiful the shoreline is tight and buggy. Worth a quick peek before continuing on.
Section 2 of 3 - Doris Lake
The next nearly two miles brings you through a series of moss covered forests, high meadows filled with trickling brooks and ending at Doris Lake, which is by far the main attraction of the hike. If you aren't trying to get in more miles, likely your turn around point. The shoreline is lovely with plenty of spots to settle in for lunch or an afternoon nap in the hammock.
Section 3 of 3 - PCT Connector
This final three mile leg is mostly forested with limited mountain views but still lovely hiking. Mostly shad covered this section has slightly more ups and down over a series of low mountain traverses. Thankfully it's also less buggy than the first half of the hike and ends rather anti-climatically after a long downhill wind to the PCT in the middle of thick forest. Unless you are after more miles you aren't missing too much if you turn around at Doris Lake, you know, unless trees are your thing.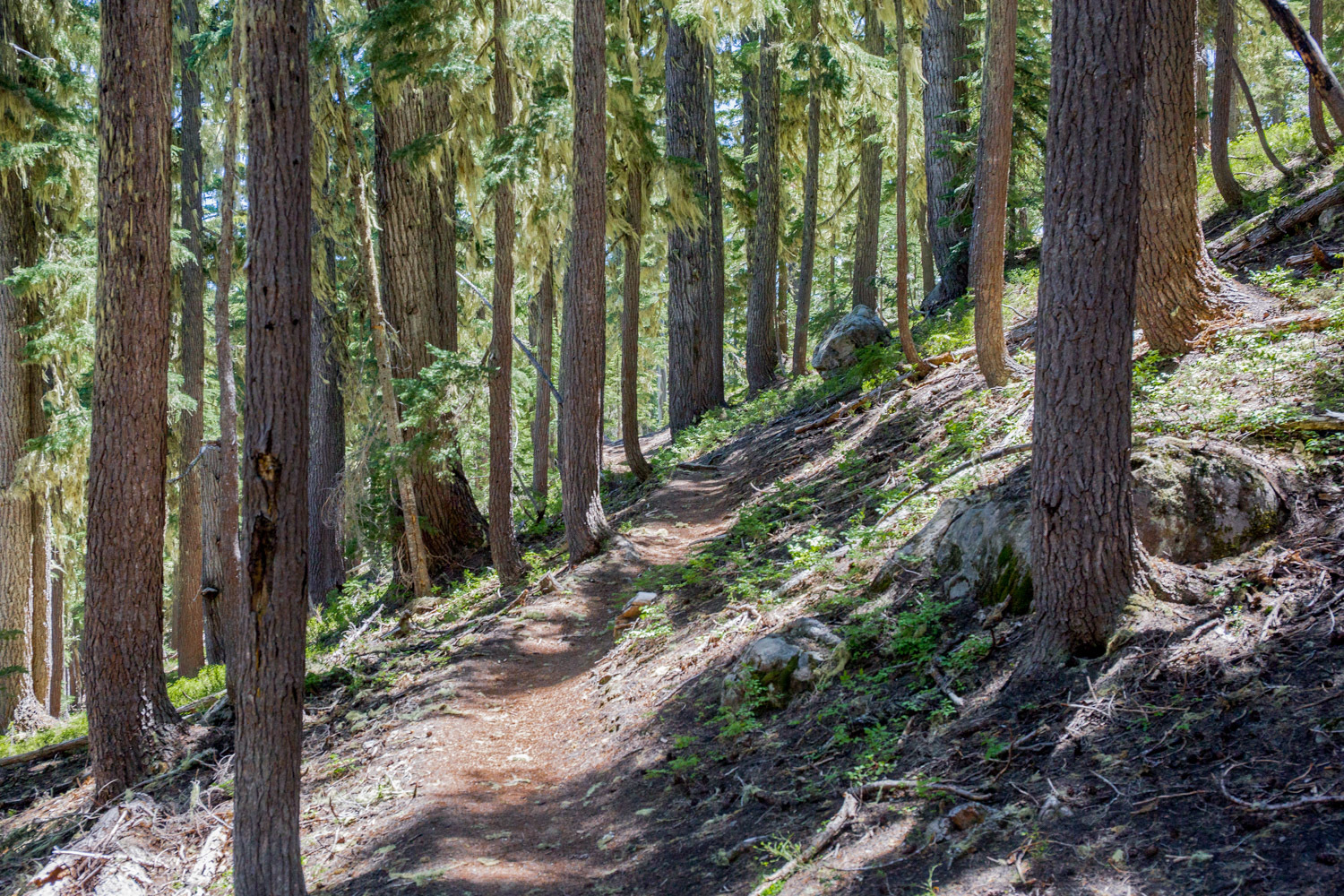 My take is this is the perfect mid-elevation trail run to non-stop hike to Doris Lake with friends, family or a good solo hike as well. Doris Lake is beautiful and the trail is relatively less traveled than most of it's counter parts on the Cascade Central Highway. View the full photo gallery here. Happy trails!